Tweet
Tweet
Today, as the foreign media descended on Sana'a and the Movenpick hotel, home to Yemen's election media canter, the US ambassador Gerald Feierstein spent the morning doing multiple interviews with the now rather large (by Yemen standards) international press pack.
In addition to repeating what he told other reporters about Iranian support of the northern Houthi rebels, a common theme it seems that propped up in interviews today, he also listed some of the recent successes of the 'never better' counter terrorism relationship with the Yemen government.
In my closing question I asked him about the case of Yemeni journalist Abdul-Elah Haidar Shaye and pointed to the concerns expressed in a workshop with around a dozen local journalists I took part in yesterday (a representative of the US embassy was also present as an observer at the workshop).
This was Mr Feierstein's response (after laughing):
"Haidar Shaye is in jail because he was facilitating al-Qaeda and its planning for attacks on Americans and therefore we have a very direct interest in his case and his imprisonment. But this isn't anything to do with journalism, it is to do with the fact that he was assisting AQAP and if they [Yemeni journalists] are not doing that they don't have anything to worry about from us."
One Yemeni journalist and al-Qaeda specialist renamed himself an 'analyst of Islamic groups' and refuses to do TV interviews especially with Al Jazeera after what happened to Shaye.
The Yemeni Journalist Syndicate say Shaye has abandoned his recent hunger strike, at the request of his family, after his health rapidly deteriorated, hampering his ability to walk and talk.
For more background on Shaye's case click on the Shaye tag below.
Tweet
Although the Bureau of Investigative Journalism may have put a few noses out of joint in Washington this week, Chris Woods and Co. can no doubt continue to sleep soundly in their beds without fear of repercussion from disgruntled counterterrorism officials. The same rules do not apply if you're a local journalist disclosing similar facts about US attacks in southern Yemen.
---
The Bureau of Investigative Journalism quite rightly threw up its arms in protest this week at the accusation by an anonymous 'senior American counterterrorism official' that they were 'helping al-Qaeda' by revealing the death toll of civilian casualties in CIA drone strikes in Pakistan, whilst also pointing out that this was not the first time US officials had attacked their findings.
Although most would see the claim that the Bureau is aiding the terrorist network as merely a transparent tantrum by Washington, it's rather easier for the same officials to make the 'al-Qaeda sympathiser' label stick on a Yemeni citizen.
Yemeni journalist Abdul-Elah Haidar Shaye's official charge sheet listed some not dissimilar accusations: working as a media advisor for al-Qaeda and holding meetings with senior leaders of AQAP [Shaye specialised as a terrorism and al-Qaeda expert, conducting an exclusive interview with Anwar al-Awlaki for Al-Jazeera in 2009.]
But when the first hearing of his trial took place in October 2010, the 34-year-old journalist was well aware of the alternative motive behind his incarceration. Refusing legal representation on the grounds that his trial was illegal, he shouted to the judge through the caged wall that separated him from the packed courtroom:
"When they hid murderers of children and women in Abyan, when I revealed the locations and camps of nomads and civilians in Abyan, Shabwa and Arhab, when they were going to be hit by cruise missiles, it was on that day they decided to arrest me."
Shaye was the first journalist to claim the US was responsible for killing 55 people, including 21 children, along with 14 alleged al-Qaeda members, in an attack in the province of Abyan in December 2009.
The journalist's assertions were later confirmed after the conclusion of his trial by Wikileaks cables released in December 2010. The leaked documents recorded a meeting between President Saleh and the then head of US central command, General David Petraeus, during which they discussed the aftermath of the December 2009 bombings. Saleh told Petraeus: "We'll continue saying the bombs are ours, not yours."
The thinly veiled charges saw Shaye sentenced in January last year to five years behind bars. Days later Ali Abdullah Saleh, as one of several concessions offered to appease anti-government protesters, granted him a presidential pardon. But Shaye never walked free. Due to direct intervention by President Barack Obama, in a phone call to his Yemeni counterpart on February 2, Shaye remained in jail.
The reaction by the US this week to the Bureau's findings served well to underline the reason behind Shaye's continued incarceration and Washington's interference in his case.
The Yemen Times has repeatedly covered Shaye's plight, but otherwise his detention at the behest of the US president has gone largely unnoticed by the English speaking press. The Yemeni Journalist Syndicate has made several requests to visit Shaye in prison, but during more than a year and half in jail only his family have been granted access.
The International Federation of Journalists announced this week it had written a letter to Hilary Clinton "to demand that the administration lift its objection to the release of Shaye." As a paid up card-carrying [ironically the very card that got me into court to see Shaye's trial] member of the IFJ I think it's an embarrassment that it's taken the organisation a year to respond.
Perhaps some consolation for Shaye and his family is that his time in prison may well have saved his life. Given the events of last year and the increase in CIA drone strikes in southern Yemen since May 2011, if Shaye had been a free man and continued in his line of work it's distinctly possible he would have become a victim of the very strikes he sought to expose; a "mistake" as Washington claimed the two teenagers killed in a Shabwa drone strike were in October last year, or a convenient coincidence.
Chris Woods and colleagues are fortunate they remain out of reach of anything more than stroppy comments from anonymous senior US officials. In Yemen the wrath of Washington leaves Shaye facing another four years in a Sana'a prison.
Tweet
07 Feb 2011
See original article at Index on Censorship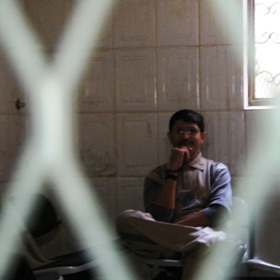 Journalist Abdul-Elah Haidar Shaye should have been released from prison as part of concessions to protesters in Yemen. But a phonecall from the US president has kept him behind bars. Iona Craig reports
 
In the days before mass anti-government demonstrations took place across the country last week, President Ali Abdullah Saleh granted a pardon to Yemeni journalist Abdul-Elah Haidar Shaye. But thanks to Barack Obama, it appears he will now not be released.
Shaye was sentenced last month to five years in prison for being the "media man" for Al-Qaeda. The 34 year-old journalist was found guilty of "participating in an armed gang, having links with Al-Qaeda and for taking photographs of Yemen security bases and foreign embassies to be targeted by the terrorist organisation."
In the wake of uprisings in Tunisia and Egypt, President Saleh made a string of concessions and welfare reforms to quell mounting opposition and calls for him to resign. Shaye's presidential pardon, announced last Tuesday, was in keeping with recent compromises. But in a phone call with his US counterpart on 2 February, in which Obama congratulated Saleh for his recent political reforms, the US president also expressed his "concern" over the intended release of Shaye.
Taken from his house in the middle of the night in August last year and held for 34 days without access to a lawyer or his family, Shaye's trial began last October. The journalist made his name after interviewing radical cleric Anwar Al-Awlaki. Shaye was also the first journalist to claim the US was behind bombings in the southern province of Abyan in December 2009, which killed 55 people including 21 children as well as 14 alleged Al-Qaeda members. Shaye's claims were confirmed in a leaked diplomatic cable released on 3 December. The leaked document recorded a meeting between President Saleh and the then head of US central command, General David Petraeus, during which they discussed the aftermath of the December bombings. Saleh told Petraeus "We'll continue saying the bombs are ours, not yours."
Shaye's lawyers, who did not represent him in court on the grounds that the journalist refused to recognise the legitimacy of his trial, say the charges against him were fabricated as a result of his reporting on Al-Qaeda and his accusations against the Yemeni and US governments.
Khaled Al-Anesi, a lawyer from human rights organisation HOOD, told the Yemen Times on Sunday that there were suspicions that the US wanted him jailed.
"This American interference insures that Yemen's dealing with terrorism is run by the US," said Al-Anesi. "If they wanted to release him they would have released him immediately straight after the pardon was announced. This is a sign that they don't want to set him free."
Shaye's continued detention at the request of Barack Obama would not be the first time Yemeni prisoners have been detained at the behest of the US. Recently leaked diplomatic cables revealed that 28 Yemenis were held, 'based on USG [US government] objections" despite Saleh agreeing to release them in a Ramadan amnesty in 2004.
See video of Abdul-Elah Haidar Shaye responding to charges on the first day of his trial in October last year.
Tweet
Tweet